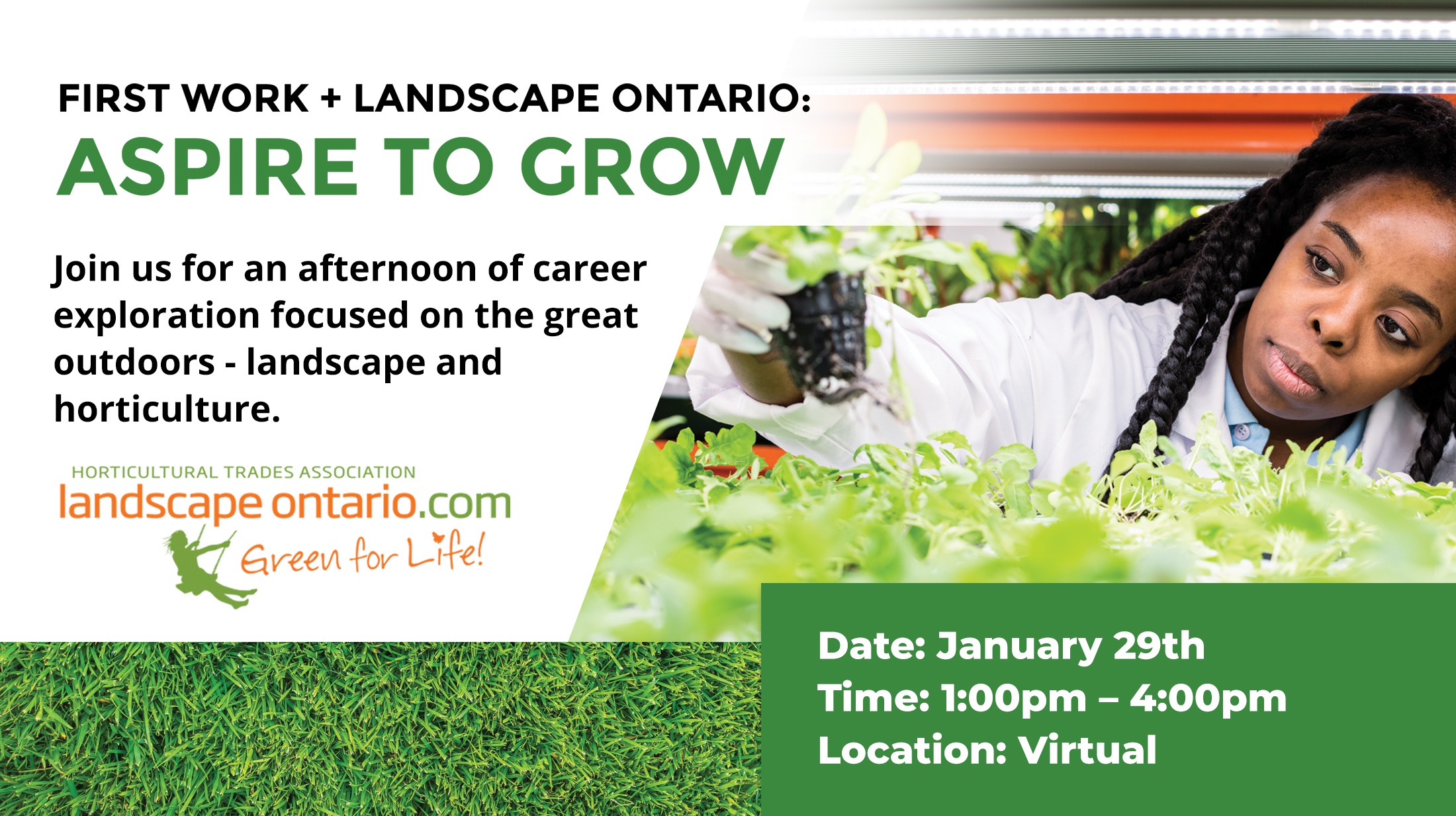 Aspire to GROW
The first Aspire event of the year is coming soon!
First Work + Landscape Ontario: Aspire to Grow
Friday, January 29th, 2021
1:00-4:00pm
ASPIRE to Grow Event Details
First Work is excited to be partnering with Landscape Ontario to offer an event for
youth (15-30) to learn about the pathways and opportunities in the landscape and
horticulture profession!
Landscape Ontario will also introduce their new GROW Entrant Training Program and the Horticulture Technician Apprenticeship Program. Youth will have a chance to meet with industry professionals and graduates from their training programs in a breakout networking groups.
Join us for an afternoon of career exploration focused on the great outdoors! Youth be rewarded with confidence, new job paths to explore, and $20 in gift cards for their full participation!
The event will wrap up with a career-pathway exploration with Project Integrate. Youth will be facilitated through assessments that will help determine their most successful career paths. This also includes gift-card incentives to ALL youth who complete the assessment tools and surveys.
Networking Breakouts with Industry Professionals
In the Networking Breakout Session, participants will be split into networking breakout rooms with past graduates of the GROW program and industry professionals. This opportunity is a great way grow your network, especially during the lockdown!
Youth are encouraged to ask questions via mic or in the chat
Each room will have a small activity related to each panelist
Meet the Panelists! – Aspire to GROW Speakers
Project Integrate
Aspire to GROW will wrap up with career-pathway exploration with Project Integrate. Participants will be facilitated through psychometric assessments through the free Project Integrate tool to help determine their most successful career paths.
Youth will also complete and RBC Feedback survey form. Gift-card incentives will be provided to ALL youths who complete the assessments and surveys!
If there are any question about the event or registration, don't hesitate to email Kristen at aspire@firstwork.org.
See you there!
About Landscape Ontario
Landscape Ontario Horticultural Trades Association (LO) was established over 40 years ago with a mandate to promote and advance the Landscape and Horticulture industry through leadership, community, professionalism and stewardship.
LO supports its members who design, install and maintain the healthy green infrastructure that provides sustainable solutions to issues created by weather events. LO strives to be the hub that creates opportunities for the current and future workforce to advance their careers and pathways to support this growing industry.