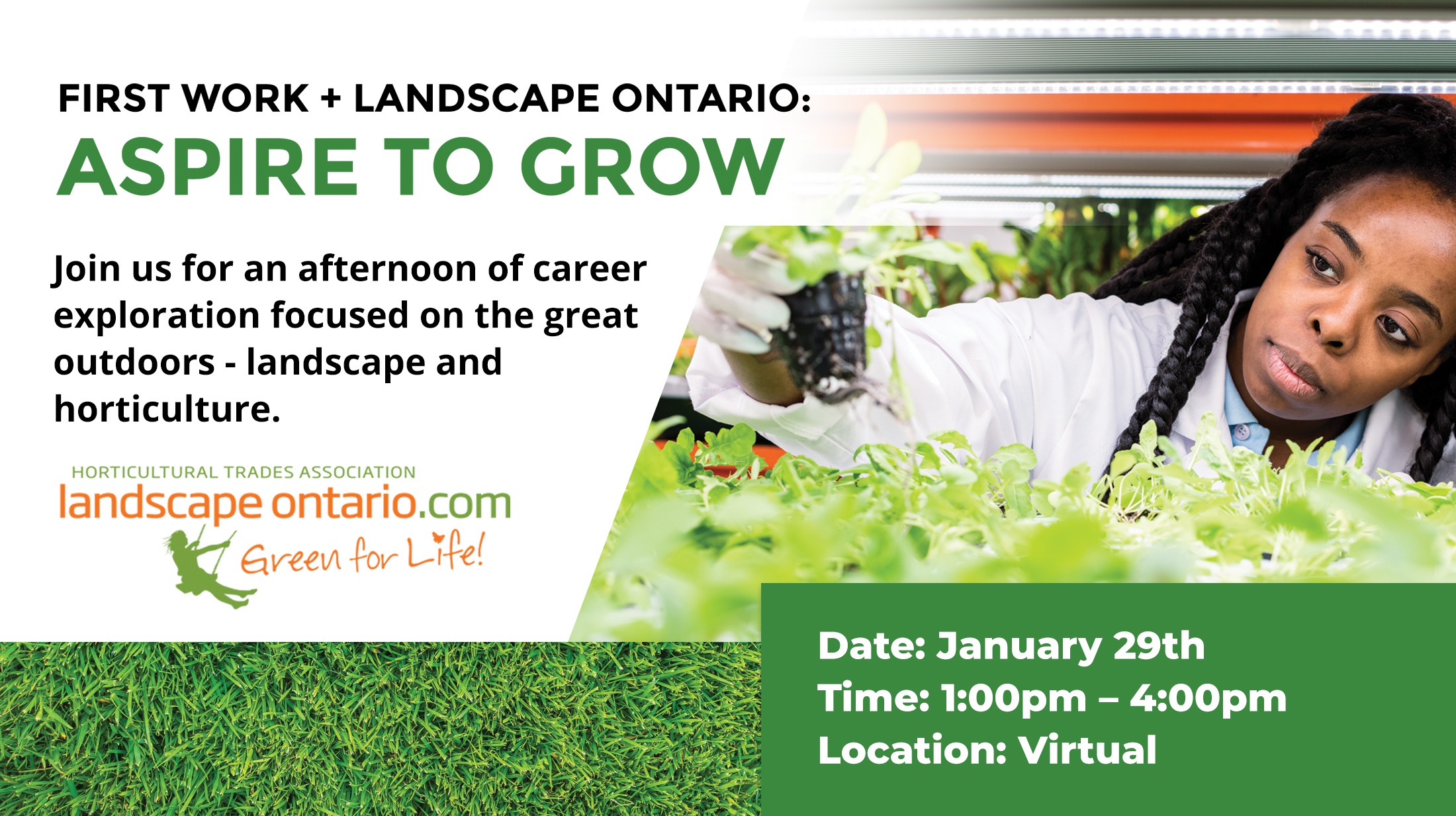 Aspire to GROW
The first Aspire event of the year is coming soon!
First Work + Landscape Ontario: Aspire to Grow
Friday, January 29th, 2021
1:00-4:00pm
GROW Information Session
The GROW Program by Landscape Ontario is a 6-week training program designed to accelerate your career in landscape and horticulture through ongoing training, career development and apprenticeship opportunities – including a paid 2-week placement. Participants will learn about careers in horticulture, the training components of the GROW program, and where a career in the industry could lead.
Introduction to the profession include: sectors, career opportunities employment types, pathways (apprenticeship, GROW etc.
Take questions from the group
Networking Breakouts with Industry Professionals
Following the informational session on the GROW program, the various speakers will introduce themselves, their area of sector expertise, and a bit about their journey in the industry. Participants will then be split into networking breakout rooms with past graduates of the GROW program and industry professionals. If you've been trying to network during lockdown, this opportunity alone is a great way to get your feet wet while growing your network.
Panelist introduces them self and provides more detail about their pathway
Attendees encouraged to ask questions via mic or in the chat.
Each room will have a small activity related to panelists
Career Pathway exploration with Project Integrate
Aspire to GROW will wrap up with career-pathway exploration with Project Integrate. At 3:00 PM, participants will be facilitated through psychometric assessments to help determine their most successful career paths. A product overview of the free Project Integrate tool will be followed by individual assessments, after which a $10 incentive gift certificate will be provided.
Project Integrate overview and instruction
Individual assessments to determine your strongest career pathway
$10 giftcard upon assessment completion!
Aspire to GROW Speakers
About GROW
The GROW Program from Landscape Ontario is a 6-week training opportunity – including a paid 2-week job placement – designed to build skills in landscape and horticulture to kick-off careers in the industry. This program, offered free of charge, allows participants to build industry relationships, learn trick of the trade, and land a job in the sector.
Ideal GROW applicants
Youth from the GTA, Hamilton, Halton and Peel regions are particularly encouraged to apply.
This opportunity is not restrictive to youth in these areas; however, the paid placements are in these regions and so we cannot guarantee completion of the program if youth are from outside the above regions.
Participants must be over the age of 18 and unemployed (not under-employed).
About Landscape Ontario
Landscape Ontario Horticultural Trades Association (LO) was established over 40 years ago with a mandate to promote and advance the Landscape and Horticulture industry through leadership, community, professionalism and stewardship. LO supports its members who design, install and maintain the healthy green infrastructure that provides sustainable solutions to issues created by weather events. LO strives to be the hub that creates opportunities for the current and future workforce to advance their careers and pathways to support this growing industry.