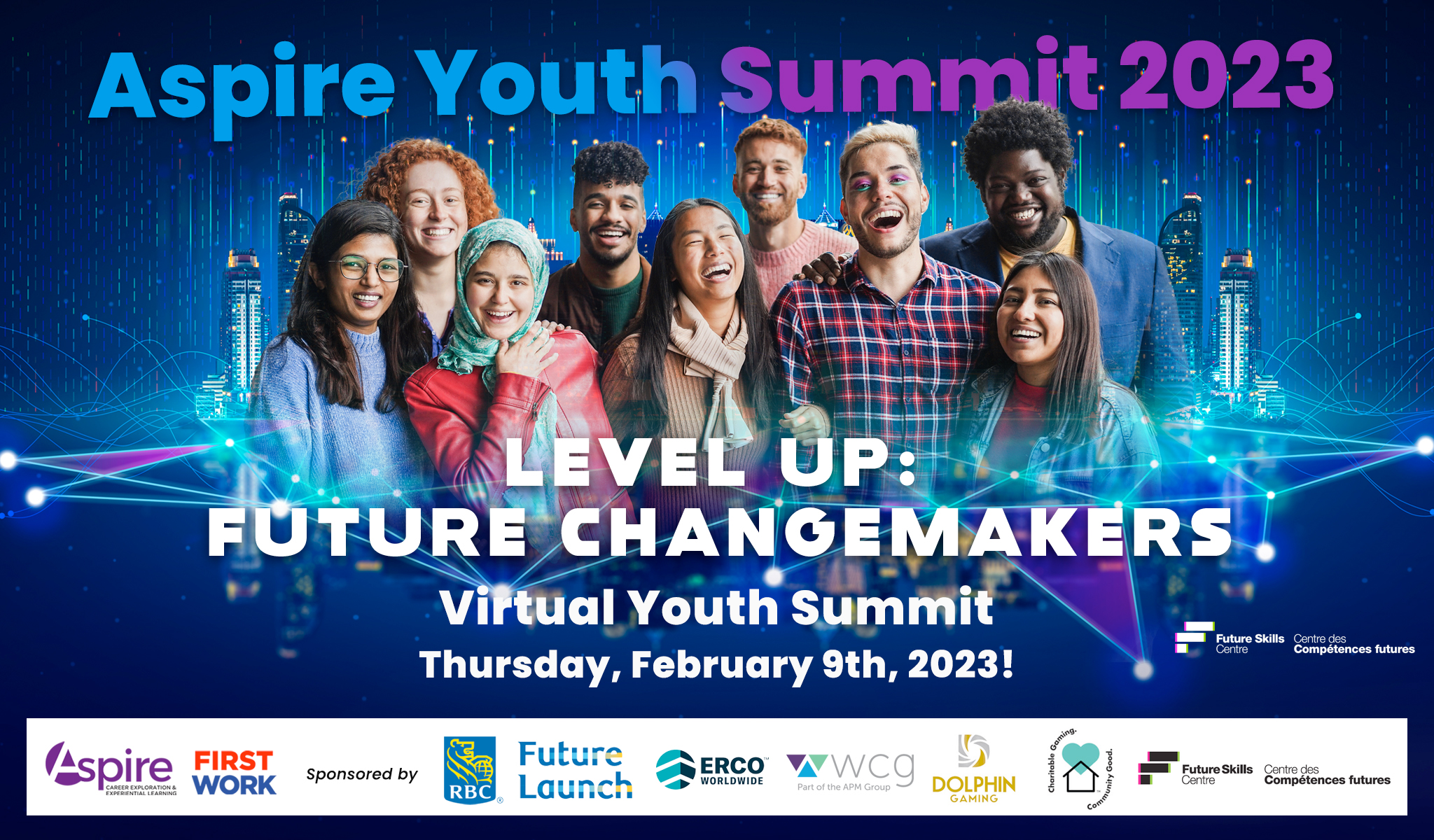 Aspire Youth Summit 2023 – Level Up: Future Changemakers
At the Aspire Youth Summit 2023, young Ontarians were given the opportunity to virtually explore meaningful work and expand their own capacity to be changemakers.
On February 9th, 2023, hundreds of young people (15-30) attended the youth-driven, youth-designed one-day virtual summit themed Level Up: Future Changemakers. Modeled as an alternative to take your kid to work day, the 2023 Aspire Youth Summit offered youth the chance to meet and network with experts, employers, and motivators to explore careers and develop skills through seminars, panels, and training sessions.  From career exploration to personal advocacy, the Summit educated, inspired, and encouraged youth who are entering or currently in the labour market, and gave attendees a steppingstone to level up their future of work.
Young people who were in school or graduating during the acuity of pandemic economic disruption have an uphill battle to regain their footing in a labour market that has left them behind. Awareness of and access to Employment Service Providers in First Work's network was front of mind while youth took part in keynotes and sessions such as:
It's All About the Journey | Kick Ass Careers
Career Exploration in Agri-Foods: panelists and companies mentioned by name
Career Exploration with CNIB: Training a Handler and Guide Dog
Bringing Our Issues to The Table: An Advocacy How -To | Young Ontarians United
Experiences of Polarization in our Communities | Public Policy Forum
Session content was made available for registered participants for 30 days beyond the event via Pheedloop for youth unable to attend live sessions.
Marci Ien, the Canadian cabinet Minister of Women and Gender Equality and Youth, kicked off the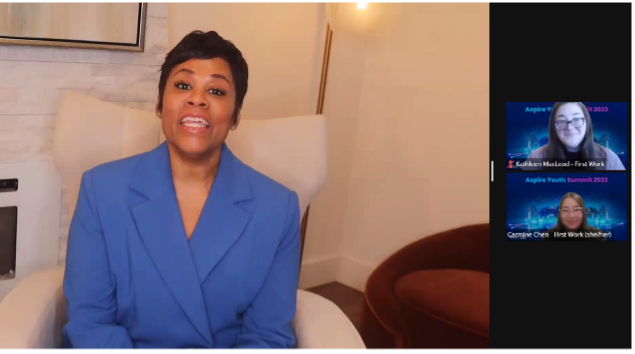 Summit, calling to attention the rich landscape of opportunities Canada has to offer.
Career exploration sessions for Guide Dog Trainers and Mobility Instructors put on by the Canadian National Institute for the Blind and a panel on careers in Agri-Foods introduced attendees to careers they would not have otherwise heard about. First Work is raising awareness of meaningful Agri-Food career options with the Aspire initiative in partnership with Ontario's Ministry of Rural and Agricultural Affairs (OMAFRA).
Randall Adjei, Ontario's First poet Laureate, joined to invite participants to find purpose through a life in service of others and in service of their own gifts. Reminded that they have things to offer, youth joined afternoon sessions focused on career growth and ended the Summit with a keynote by Mardi Daley, affirming that a Changemaker's best asset towards employment might be their lived experience.
The Youth Summit would not have been possible without sponsorship by RBC Futurelaunch,  Erco Worldwide, WCG Services, Dolphin Gaming, the Future Skills Centre, and the Ontario Charitable Gaming Association
Session images: