Grand Erie Aspire Job Fair

First Work's Aspire initiative hosts Career Exploration events across Ontario to provide youth with opportunities to learn about different career pathways and network with employers.
600 job seekers participated in the Grand Erie Aspire Job Fair! Spread over 3 days in Brantford on November 15th, Delhi on November 16th, and Paris on November 17th – this career exploration series was the largest job fair in the region. Over 100 employers networked with jobseekers and community partners in a region deeply impacted by current labour shortages.
Young job seekers were essential attendees at the event series. Youth were able to not only explore career opportunities, but develop career goals with their communities in mind. By the end of the event, many employers had interviews scheduled with candidates who attended, and several job seekers had already received offers of employment!
Collaboration with community partners made this event a success.
Community Partners
The Workforce Planning Board of Grand Erie (WFPBGE) plays a leadership role in labour force planning in the communities of Brantford, Six Nations, New Credit and Brant, Haldimand and Norfolk counties. We operate the region's largest job board: Grand Erie Jobs. https://workforceplanningboard.org
Fanshawe College Community Career & Employment Services proudly serves the Norfolk County community providing FREE services to people needing help finding employment, employers recruiting new staff, adult learner upgrading programs, literacy programs, career preparedness workshops and more. Services are brought to you in partnership with Employment Ontario. https://www.fanshawec.ca/cces
St. Leonard's Community Services is a not-for-profit organization that has been offering help to the people in Brantford, Brant, and Haldimand for over 50 years. They provide our community members with support in the areas of Employment, Housing, Justice, Addictions and Mental Health. https://www.st-leonards.com/
Paris & District Chamber of Commerce is dedicated to creating and sustaining an engaged, collaborative, and vibrant business community in the County of Brant. They provide valuable tools to enhance the profile of your business, network with other like-minded people, source potential suppliers and customers, voice concerns and receive peer support and advice. https://www.pariscoc.ca/ 
The County of Brant is a charming, prosperous, and inclusive place to live, work and play. Our goals are to grow in a responsible manner with a diversified local economy, engage citizens in transparent and mutually respectful dialogue, support current and future needs of the community, provide programs, services, facilities, opportunities and events to enhance quality of life for every resident, and ensure resources are available to deliver quality, reliable, accountable and affordable public service. www.brant.ca
The Ontario Youth Apprenticeship Program (OYAP) is a specialized program in high school that allows you to explore apprenticeship and consider careers in the skilled trades, generally starting in Grade 11 or Grade 12 through the cooperative education program. This program offers students an opportunity to explore a skilled trade and begin an apprenticeship while completing credits towards an Ontario Secondary School Diploma (OSSD). Through Cooperative Education (Co-op), OYAP provides students with on-site work experience and the opportunity to register as an apprentice with a willing employer. www.oyapskilledtrades.ca
The Specialist High Skills Major (SHSM) is a specialized program that allows students to gain credits toward their Ontario Secondary School Diploma and focus their learning on a specific economic sector at the same time. The SHSM is a Ministry of Education approved program. https://www.ontario.ca/page/specialist-high-skills-major
Grand River Employment and Training (GREAT): Established in 1992, GREAT is an Indigenous non-profit organization providing employment and training support to Six Nations band members regardless of their residency, job seekers, and employers across Ontario. GREAT is recognized by the Six Nations community, and both Six Nations Elected and Confederacy Councils as the Aboriginal Skills and Employment Agreement Holder for employment and training programs for Six Nations.  https://greatsn.com/
Conestoga College is a leader in polytechnic education and one of Ontario's fastest growing colleges, delivering a full range of career-focused education, training and applied research programs to prepare students for success in the new knowledge economy and promote economic prosperity throughout our region and across Ontario. https://www.conestogac.on.ca/
Event Sponsors: RBC Future Launch, Fedcap Canada, OYAP, SHSM, WFPBGE, St. Leonard's Community Services, Fanshawe College Community Career & Employment Services, The County of Brant, Paris & District Chamber of Commerce, GREAT.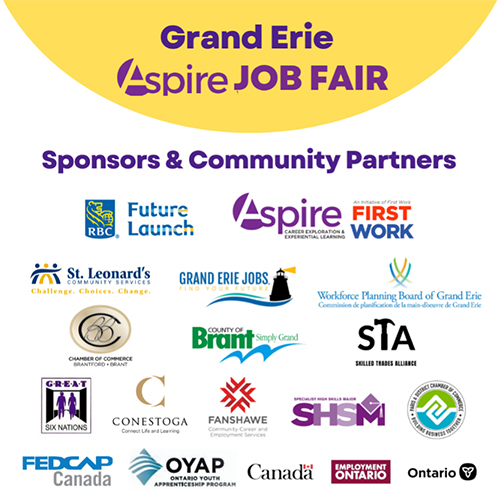 Several industries across Grand Erie were represented by small, medium, and large companies. See participating employers below: