Growing up, finding a job seemed much easier than
in
our current reality.
I can't be the only one who feels this way, can I? It was almost a guarantee that once you had a degree or some professional experience, you'd find employment in your desired field.
When the pandemic hit, like many of you, I had to shift my approach to what I knew about the employment world, to fit into what life presently is. It was stressful being a student, then a new graduate, trying to find employment, all while managing the responsibilities of day-to-day life in a pandemic.
It's 2022 and I can't overlook the changes that I myself – and the world – have gone through over the last 5 years. I started and completed a bachelor's degree, while learning so much about the world of employment through mentors, academic advisors and employment service providers.
D
uring the pandemic, I came to a point in my employment search
,
where I felt my school's career centre could only offer me so much support. I was looking for jobs in the "wrong" places, applying for jobs with a resume that desperately needed a revamp, lacked confidence in my interview skills and hadn't fully grasped the importance of networking.  I started to put a lot of pressure on myself to find a career-related job, which took a toll on my
mental health
. I knew that I needed more support than what I was being offered but I didn't know where to begin.
I came across an organization in my community named
FYI
, that supports youth ages 15-29 through academic, employment and other needs.

It's okay to not have everything figured out,
because Em
ployment Service professionals are here to help you fill in those gaps. Answering questions about yourself and your future can be an anxious experience, and being able to articulate what you've accomplished in your life thus far is difficult when you may feel like you haven't done enough.
You are not alone.
Starting off at For Youth Initiative allowed me to get connected to similar organizations across the GTA that offer similar support, such as
COSTI
. These organizations each have specialized groups of employment networks and were willing to share job opportunities with me
I couldn't find on my own
.
My case workers helped me build up my
LinkedIn
profile and my approach in reaching out to professionals for
coffee chats
. They encouraged me to apply for jobs I didn't feel too qualified for and reminded me to give myself credit when necessary and to not hold myself back due to fear. 

An open mind is a great tool in these sessions, and a goal, no matter how small, can direct your case worker to a plan that keeps you on track.
Each employment service provider is unique,
and
some case workers weren't meeting me where I was at or providing me with the support I needed. I've been in situations where I was told that jobs and volunteer experiences I acquired weren't enough and that I should have been involved in more clubs or extra curriculars in high school and in university. This case worker on occasion, made me feel lazy, unprepared and a bit doubtful regarding my future and didn't consider the circumstances that made this difficult for me to accomplish.
I doubted whether this partnership was something I'd want to pursue further, but I wanted something to change.
I explained my past circumstances with this case worker, highlighting the fact that I was currently putting in the work to change my trajectory and that I needed a break from our sessions. I noticed our conversations were more positive and constructive when we resumed our sessions.
It's okay to take a break from employment providers.
Recognizing your limits or when you're feeling burnout, and letting your case worker know doesn't make you lazy or less motivated, but as someone who recognizes when they've reached their capacity and needs the space to re-group.  
No doubt, you'll be working hard to make the necessary improvements to land your desired job and you may feel overloaded with information and weary from countless conversations and job applications sent during this process.
Ultimately, I appreciated a new set of enthusiastic eyes and ears who understood my frustrations. I worked at my own pace and with an Employment Service professional's guidance, I ventured outside of my comfort zone to give new things a chance. My case worker supported me emotionally and mentally while revamping my resume, cover letter, mock interviews and with networking.
I don't have all the answers or everything figured out, because no two experiences are alike, but I hope you read this blog and walk away feeling inspired, encouraged and with a bit more knowledge on if employment services are right for you!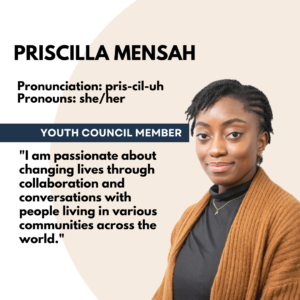 This blog post was written by Priscilla Mensah of the First Work Youth Council.
If Priscilla has inspired to engage with Employment Services, use this link to find a Provider near you!